Everything You Need to Know About Eyelash Extensions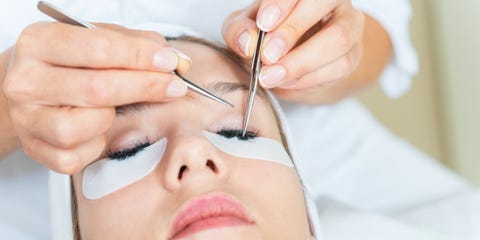 There are about a dozen and a half makeup tricks out there, but for people with very short or sparse lashes, all those mascara wands and eyelash curlers can get a little overwhelming. One dramatic, ultra-effective alternative that lasts way longer than your mascara: eyelash extensions.
Eyelash extensions allow you to add volume and length to your existing lash line using false lashes, typically applied one at a time. They're glued on, so they last longer than typical falsies — and, when done properly, they feel just like your normal lashes. But before you add falsies to your look, here's what you need to know.
1. There are multiple kinds of lash extensions.
There are three popular types of lash extensions: synthetic, mink, and silk. Depending on the length and thickness of the lashes, you can achieve different "looks." For example, adding a few extra millimeters to your outer lashes gives you a cat eye style, while consistently long lashes across the eye is more of a "showgirl" look. Some places even offer lash extensions in different colors, if you're feeling extra adventurous.
2. It's so (so!) important to have them done by a pro.
Just because one of your friend's friends swears she knows how to perform eyelash extensions with a DIY kit she bought on Amazon doesn't mean you should let her touch your face. "The wrong technique can cause side effects such as irritation, losing your eyelashes, and gaps or spacing between applied lashes and natural lashes," says aesthetician Olga Mozgovoy of Skintology Skin and Laser Center in New York City. Be sure to read reviews on Yelp or Google of salons in your area so you can find the best one for you.
3. A patch test is a must.
Remember that woman whose eyelashes fell out because she had a horrible reaction to lash glue? Don't let that be you. So before you start, make sure your lash technician does a patch test to determine if you're sensitive or allergic to the glue she's using.
4. The application process isn't quick, but that's a good thing.
First of all, going to a pro who uses proper techniques limits your risk of damage. A full set of lashes takes approximately two hours to apply, with each lash being dipped in a semi-permanent glue that's safe for your eyes, then applied to the lash line while your eyes are closed. As someone who's had them done before, I can tell you that it doesn't hurt if you go to a person with lots of training — in fact, I fell asleep while having mine applied.
5. Proper aftercare keeps your lashes looking fresh.
Now that you've got long, pretty lashes, you need to take care of them — and that may mean switching up your routine. First of all, you can't expose your eyes to heat or water for the first 24 hours. If you do, the glue won't be able to set and all that time you spent having your lashes applied will be for nothing.
After the first day, Mozgovoy recommends sticking to lukewarm water when you wash your face. You should also avoid rubbing your eyes with a towel (or sleeping face down on a pillow); otherwise, you can pull the lashes off. Yikes!
Another tip: Be really careful about which beauty products you're using on your face while you have lash extensions. As much as you may love your daily cat eye, beware that your love of liner could affect your new look. "Oil-based foundations, makeup removers, mascaras, and liquid eyeliners are not recommended since they can ruin the bonds between lashes," warns Mozgovoy.
6. They don't last forever.
Your lash extensions will last approximately as long as your natural lash cycle — about six to eight weeks or so. To maintain your desired look, you should anticipate getting your lashes filled every three to four weeks.
Source from:https://www.goodhousekeeping.com/beauty/makeup/a36322/eyelash-extensions-tips/
The Prestige Eyebrow & Lash Specialist
Lip Enhancement  (Director) – $1288 (2 Sessions)
Lip Enhancement  – $888 (2 Sessions)
The Prestige Eyebrow & Lash Specialist
Celebrity Feng Shui Eyebrow Specialist – Irene Teo
Pacific Plaza
9 Scotts Road, #03-08
Singapore 228210
Tel: 6733 3369 / 6733 3379
Suntec City Tower 2, #02-488
Singapore 038983
Tel: 6822 3395 / 6822 3396
Website – www.PrestigeEyebrow.com
Facebook – https://www.facebook.com/PrestigeEyebrowSpecialist
Instagram – @prestigeeyebrowlash
Call The Prestige Eyebrow & Lash Specialist and make an Appointment NOW ! Click Here!
Interested in learning Eyebrow Embroidery/ Microblading? Click Here !