Microblading – Everything You Need To Know About The Semi-Permanent Eyebrow Treatment
What it really feels like, does it work, is it worth it? Clue: YES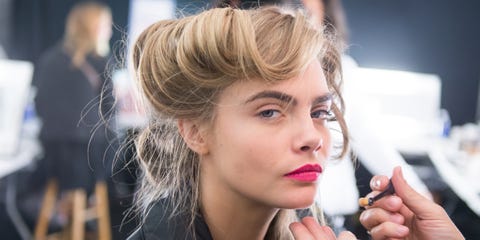 If you haven't been sucked into a blackhole of microblading eyebrows before and after Insta stalking by now, then frankly we applaud you.
Because, if, like us, your eyebrows suffered at the hands of the noughties and Christina Aguilera-esque tadpoles (check out the eyebrow mistakes to avoid here) then an obsession with microblading is basically inevitable.
The semi-permanent secret to faking fuller eyebrows that look totally natural, microblading might just be the hassle-free solution to spending hours pencilling in your eyebrows only to get the shape so completely wrong.
Not sure what we're talking about? We sent Digital Beauty Editor George Driver to microblading expert and eyebrow miracle worker Suman Jalaf of SumanBrows Beauty Atelier to get the lowdown…
Everything You Need To Know Before Splurging On Microblading
What is microblading?
Microblading is a type of eyebrow architecture. It is all about creating the best shape for each face – a totally bespoke approach for each client.
The process is very precise thanks to the tool that is used which is effectively like a pen with the nib being a sloped blade with 10-12 little needles at the end – needles that don't penetrate the skin but just delicately scratch the surface, much like a paper cut.
The needle very finely implants featherweight strokes with a medical grade pigment on the epidermis layer for the skin, creating fine, realistic and natural hair strokes.
How is microblading eyebrows different to having your brows tattooed?
Microblading, unlike tattooing, is not in the deep layer of skin, but more on the surface. This is also not permanent, and the colour fades within 18 months.
The hair strokes are far more natural and finer than any tattoo, as a handheld needle/blade is used – there is no electrical gadget that permeates deep in this technique. There is therefore more of a scratching noise, rather than a buzz of a tattoo gun which pierces the skin so deeply.
Can you be allergic to microblading?
There are people who are sensitive and allergic to some pigments, but in my experience this is extremely rare. I will always perform a patch or scratch test to check you are not allergic prior to the treatment.
How much does microblading cost?
A Suman microblading treatment costs £500. This includes a consultation, the initial treatment as well as a top up treatment after 6-8 weeks.
What actually happens when you get your eyebrows microbladed?
1. I shape the brow area by threading the hairs, cleaning up the area and preparing it for the treatment.
2. Numbing – this takes 40mins using a topical ointment. While this is working its numbing magic, I'll show the client colour swatches and discuss together the best shade for their desired look.
3. 10 minutes before the numbing cream has got to a stage of working, I'll use my tools to begin measuring the area around the brows, taking into account face shape, symmetry, facial features etc.
4. Then I begin the needling process – gently implanting the pigment via featherweight strokes. Each stroke is a superficial line in the skin where the colour pigment seeps in and settles then. If there is any discomfort at this stage we add another quick layer of numbing cream to the area which will become effective after 5 minutes.
5. I add on a final layer of pigment that stays on for 5mins, clean the area and et voila – beautiful brows!
6. In 6-8 weeks there's a top-up session to fill in any gaps where the pigment hasn't taken or healed properly.
Why is there a top up session and when does this happen?
The top up session happens after 6-8 weeks. This is the time where I can assess the first steps, and add in any further strokes and add a darker pigment if preferred.
What happens in the mean time?
You'll need to follow the after care instructions (see below) and avoid any picking or scratching. Your eyebrows will start to heal over, much like a tattoo, which might cause irritation but is totally normal.
In the next ten days or so your eyebrows will change colour, might become flaky and look like they've faded but this is totally normal. They'll reveal their final colour and shape after around 30 days. This can then be topped up at the second session.
How do you know what shape to go for? Should we bring pictures?
Clients are welcome to bring in images of the style of brow they like, or come in with the brow make up they normally wear on a day to day basis – but I'll determine the colour and shape to use from my years of experience.
Get the right colour…
People come in and tend to want darker than I suggest, but it's always better to go a little more natural – you can always add more into the top up session for a darker colour.
I'll look at your hair colour, eye colour and skin tone using the Fitzpatrick Chart, which also takes into account how your skin will change with sun exposure etc., to ensure the correct colour pigment choice.
Get the right shape…
I'll measure up your eyebrows using a Microblading Ruler to choose the perfect shape of brow which is individual to each client. Based on this, I'll freehand the final shape.
How long does microblading last?
Microblading lasts anything between 12-18 months, but the longevity of the pigment will depend on your skin type.
People with slightly more oily skin will tend to last around the 12 month mark before needing a top up, but those with normal skin can last up to 18 months.
Your brows will eventually fade away if you don't continue with top ups every 18 months or so. There is no scaring or discolouration with the pigments used, so you wouldn't know if you left them to fade out.
Does microblading hurt?
It doesn't hurt as such, it is more a sensation. The process itself is not painful thanks to the numbing ointment that is applied. It's sometimes the sound of the blade which people find worse – a small scratching sound.
The whole process is very quick – it's actually the numbing which takes most of the time (50mins), you aren't under the needle for the whole 2 hours.
Can microbladed eyebrows be undone/removed?
Yes – the pigment used leaves no scarring or discolouration, and I can use a salt/saline solution to remove microbladed brows.
It is very important to know and understand that brows will be up to 40% darker in shade for the first 7-10 days during the healing process where scabs can form and flake off.
Ladies can sometimes leave the studio, and two days later be terrified that their brows are too dark, but please be patient – as this is totally normal! After 7-10 days, you will begin to see the final colouring.
The Pre-Microblading Rules
There's a few of them…
In Advance…
1. Do not pick, tweeze, wax or have electrolysis one week prior.
2. Do not use sunbeds or sit in direct sunlight two weeks before.
3. Do not have any type of facial or peel two weeks prior.
4. Stop using any retinol or Vitamin A products one month prior.
5. No exercising on the day.
6. Do not have botox three weeks before.
7. Do not take fish oil or Vitamin E one week prior (these are natural blood thinners).
8. Do not wax or tint your eyebrows three days prior.
On The Day…
1. Do not drink alcohol 24-48 hours prior to your appointment.
2. Do not drink coffee 2 hours prior.
3. Do not take aspirin or ibuprofen 24 hours prior.
The Post-Microblading Rules
Days 1-7…
1. Gently wash your eyebrows every morning and night with water and an antibacterial soap such as Cetaphil. Ensure all soap is rinsed away and dry by gently patting with a tissue. This will not remove the pigment.
DO NOT use any cleansers containing acids or exfoliants.
2. Apply a very small amount of coconut or rosehip oil to each brow morning and night.
Things to consider once your brows have been microbladed…
Use a clean pillowcase
No picking!
No facials, botox, or peels for 4 weeks
Avoid exercise for 1 week
Avoid direct sun for 1 week
Avoid long, steamy showers for 10 days
Avoid swimming for 10 days
Don't wear any make-up or use skincare on your brows until they've healed.
Remember, your eyebrows aren't finished until after the second session.
Source from :https://www.elle.com/uk/beauty/a31566/microblading-eyebrows/
The Prestige Eyebrow & Lash Specialist
Lip Enhancement  (Director) – $1288 (2 Sessions)
Lip Enhancement  – $888 (2 Sessions)
The Prestige Eyebrow & Lash Specialist
Celebrity Feng Shui Eyebrow Specialist – Irene Teo
Pacific Plaza
9 Scotts Road, #03-08
Singapore 228210
Tel: 6733 3369 / 6733 3379
Suntec City Tower 2, #02-488
Singapore 038983
Tel: 6822 3395 / 6822 3396
Website – www.PrestigeEyebrow.com
Facebook – https://www.facebook.com/PrestigeEyebrowSpecialist
Instagram – @prestigeeyebrowlash
Call The Prestige Eyebrow & Lash Specialist and make an Appointment NOW ! Click Here!
Interested in learning Eyebrow Embroidery/ Microblading? Click Here !