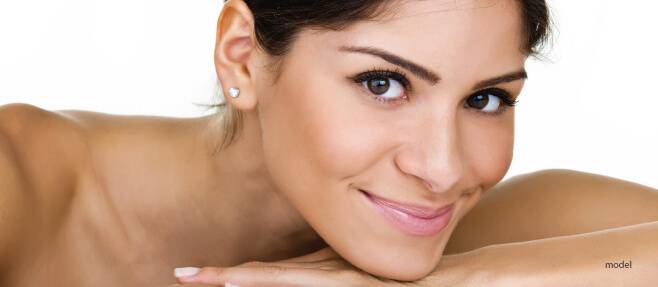 The eyebrows play a significant role in the aesthetics of the face. The shape, fullness, and symmetry of the brows all work together to highlight the eyes and frame the upper face. If you have thin or patchy eyebrows there is a non-invasive treatment that can instantly improve the eyebrow area: microblading.
Microblading is a popular eyebrow enhancement technique that improves the shape, definition, and thickness of the brows. The microblading technique uses a specialized hand-held tool with a unique blade to deposit dye into the second dermal layer of the skin, creating very fine strokes that mimic the appearance of natural eyebrow hair.
People often think microblading is a type of tattoo. While the techniques may sound similar, microblading and eyebrow tattooing are very different.
Here are 4 key differences between microblading and eyebrow tattoos:
NATURAL-LOOKING OUTCOME
Microblading creates a more natural end result compared to eyebrow tattooing, which results in brows that appear "drawn on" and flat. This is because the microblading technique creates individual hair-like strokes that are identical to hair growth pattern of the surrounding eyebrow hair. A good microblading technician can make treated areas look like a more dense version of the natural brow hair.
PIGMENT VS. INK
Tattoo ink is used for eyebrow tattooing while microblading uses a specialized pigment. Ink differs greatly from pigment in the way it fades over time. As tattoo ink fades, it often develops a blue-green colored tint, especially around the edges of the tattoo. This can leave people with some oddly colored eyebrows that often look as though they were created with a Sharpie.
In contrast, microblading pigment is specifically designed to fade into a lighter version of the color used so the patient retains a natural appearance.
SEMI-PERMANENT VS. PERMANENT
Eyebrow tattoos are permanent. Once the ink is tattooed onto the skin it is there for life (although undesirable fading of the ink as mentioned above is possible). This is very different from microblading, where the results typically last about 6 months to a year. Simple "touch up" treatments can be done annually if the microblading patient wishes to maintain their enhanced brow. The semi-permanent nature of microblading allows patients the ability to change the appearance of their brow as trends change.
PAIN
Getting a tattoo can be relatively painful, especially if they are placed in a sensitive area like the face. The microblading technique involves much less discomfort, especially if the brow area is numbed with lidocaine prior to treatment. Most patients describe the feeling of microblading to be similar to tweezing.
Source:https://www.westlakedermatology.com/blog/microblading-vs-eyebrow-tattoo/